Corner Star Sliding and Hinged Flyscreen Doors are made using the same profiles, Plastic corners, Inner Frame profiles, Mesh, Spline and Handles, thus dramatically cutting down on inventory parts and costs.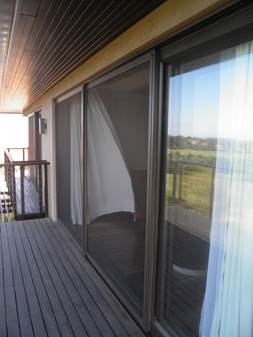 Fly screen doors can be fitted to nearly all standard, french, patio or conservatory doors.
Custom sizes and designs can be made to specifications.
Hinged Flyscreen Doors can be fitted to any single side hung door whether steel, wood or aluminium.
Available in natural, white, bronze or custom colours.
Mesh in Flyscreen Doors designed to withstand sun, heat and pet scratching.
Patio door mid-rail and Corner Cleats reinforce door strength and improves rigidity.
Flyscreen Doors is fitted with three self-closing door hinges.
Doors are fitted with porcelain handles and optional locking mechanisms.
We also carry the Nevaluz Flyscreen system for Doors and Windows, notably the Pleated Retractable Roller Door, which is simple to install and extremely neat and tidy.