Press Release
New Remote Control for Warema Retractable Awnings, Lights and Heaters
The new Warema Mobile System (WMS) Hand-held transmitter, available now, has 2 main benefits: user friendliness and security and at just 13 centimetres high, the remote control is barely larger than a pack of tissues.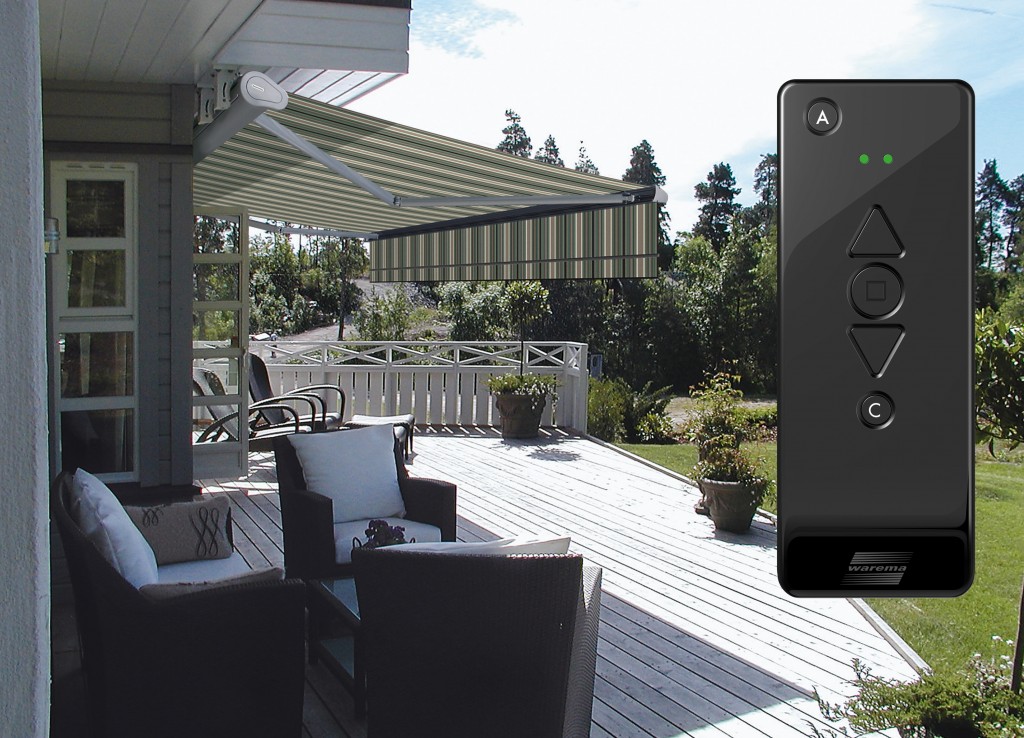 The hand-held radio transmitter enables the wireless operation of sun shading products or lamps using a WMS receiver. Only three buttons are necessary to raise, lower and stop a unit. An clear LED display provides feedback on the current status of move commands at any given time. For added comfort, users have the ability to save and call up customised positions.
The WMS offers a large number of trend-setting and future-proof features. The components function as both transmitters and receivers, and an optical display on each transmitter acknowledges executed move commands. All system components can transmit information to devices located farther away – an intelligent routing function that significantly increases operating range and reduces susceptibility to errors.
The system is based on current standards and uses a 2.4 GHz transmission frequency and 128-bit encryption. This makes it impossible for third parties to penetrate the network and operate the unit. WMS is especially well suited for retrofitting existing units, since the work required for both wiring and installation is virtually nonexistent. Additional sun shading control systems and other building features, such as light and motor-operated windows, can always be integrated into the radio network as needed.
The product range offered by Warema, the leading sunlight management expert, includes a broad spectrum of groundbreaking, energy-efficient control systems that are capable of handling much more than just sun shading solutions. Starting with small power stations, this includes multi-channel controls for residential and commercial buildings and extends to networked sun shading control systems and other special control systems for conservatories. Warema with LonWorks® and KNX technology.
For more information on the Warema UK product range please use the contact form below.
[contact-form-7 id="124″ title="Contact form 1″]