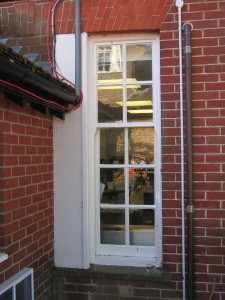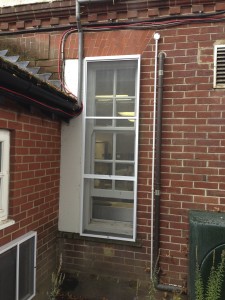 Lindfield Care Home is based in West Sussex and in 2012 Corner Star were called out to fit flyscreens to the Vent Axia vents on the care home's kitchen store room. 3 flyscreen frames with sliding panels were fitted to the vents, preventing insects and rodents from gaining access to the care home commercial kitchen.
As the Corner Star flyscreen system of plastic corners and aluminium frame lengths is flexible, it was easy to measure, manufacture and fit a 3 panel Flyscreen Window for Commercial Kitchens into the space.
Using uPVC window trim or D-section an inner frame was built up from the reveal or wooden window frame and the Flyscreen Window for Commercial Kitchens was fitted using double-sided tape and 4 screws, sealing off this uneven space and enabling the kitchen staff, much to their delight and relief, to open the kitchen window for the first time this summer!