With the holiday season starting and Easter just past, many members of the Motorhome fraternity will have already attended or will be preparing to attend some of the many Motorhome and Caravan shows which take place up and down the country, many of these shows also cover many other outdoor leisure activities.
Show Links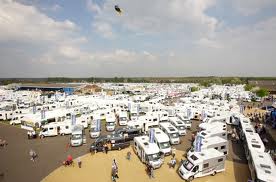 The Spring Caravan and Camping Show takes place at the NEC in Birmingham, this is one of the largest shows in the country and attracts a huge crowd of followers early in February. The Great Yorkshire Motorhome And Caravan Show 2013 takes place in March and is promoted by Wareners, who have a really useful event guide on their Website. The West Midland's Caravan and Motorhome Show takes place this weekend and is one of the country's largest FREE Motorhome and caravan shows in the UK. There are shows which run right the way through the summer and Out and About Live have the best show guide online.
Buying and Selling
Many Motorhome and Caravan Shows across England, Scotland, Wales and Ireland are now a one-stop-shop for outdoor leisure shopping! Leading dealers will be at the shows displaying a range of different models, sizes, layouts and finishes with both new and pre-owned vehicles on display. At Motorhome and Caravan Shows you will find accessory suppliers selling clothing, solar panels, flyscreens, blinds, awnings, leisure batteries, gadgets, soft furnishings and more from industry-recognised brands.
New Accessory
One new and popular accessory for the 2013 season are Corner Star's Chain Curtain flyscreen Doors, these are made from lightweight aluminium chain link, which comes in a range of 8 different colours. The chain curtain colours can also be mixed and blended into a variety of vertical patterns. Chain Curtains are fireproof and can be sited close to the galley area of a motorhome and caravan, this is extremely important consideration as most flyscreen products are made from mesh, which while normally not highly flammable, can melt and possibly produce noxious fumes. The Chain Curtain flyscreen is also easy to mount inside a motorhome or caravan door with 3-4 screws the unit is easy to site and hang. As the chain is very robust there is little risk of the chain getting tangled up and pulling away from the aluminium head rail.
Contact Us
Contact Corner Star with the measurements for your motorhome or caravan door and we will be happy to provide you with a quote for a chain curtain flyscreen in your colour of choice. Corner Star also make single panel or sliding flyscreen windows.