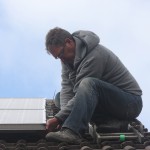 Solar panels provide space for birds like pigeons and starlings as well as other pests like squirrels to roost and homeowners are desperately looking for a solution to stop this.
Corner Star can supply an innovative, non-penetrating Solar Panel Pigeon and Pest Barrier solution for customers, that is fast and easy to install and can be removed for panel servicing. Please note that the installation of any solution on a roof should be completed by a certified, qualified and insured contractor. Corner Star can only sell to individuals or companies who will be using a certified, qualified and insured contractor to complete their installation.
Benefits:
Solution tidy and nearly invisible from the ground.
Peace of mind knowing that panel performance will not be affected by wildlife.
Features:
Clips are UV-stable, will not damage panels.
Clips bind the mesh to the panels without drilling holes or damaging the system.
Wire mesh prevents pigeons, starlings and other pests from nesting or roosting under solar panels
Please note, Corner Star have a minimum order policy of 30 units, we do not supply samples and units are only refundable if broken or damaged in transport.
FOR MORE INFORMATION CONTACT US
[contact-form-7 id="124″ title="Contact form 1″]