WAREMA conservatory roof awnings incorporate the best in pioneering design and innovative technology. Our awning products offer the perfect solution for glazed areas such as triangles or trapeziums, which other awning companies find difficult to shade.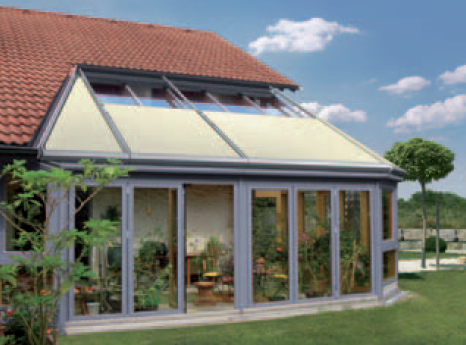 Keep Your Conservatory Cool in Summer with Warema Conservatory Roof Awnings
WAREMA conservatory roof awnings can be applied vertically or horizontally, as well as on most sloping surfaces. Sophisticated technology enable the blind to be safely retracted from the top down, ensure safe handling and provide the optimum fabric tension in any situation.
Conservatory roof awnings W8 and D2
The WAREMA W8 conservatory roof awning was specially developed for large glass surfaces of up to 6m wide by a projection of 6m. The W8 can be mounted at all pitch angles on dual or single brackets, functions as a tensioning system and can fitted with an integrated sensor. On types W6 and W8, the optionally available sensor system
measures wind load and sun influence directly on the fabric and controls the position of the awning accordingly.
Perfectly matched with the W8 is the D2, which is suitable for triangular and trapezium-shaped areas.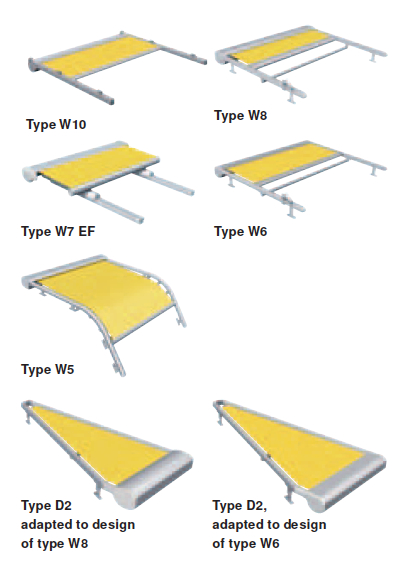 The D2 cover panels and guide rails are adapted to be used with and match those of the W8, producing a harmonious and uniform appearance on the building. This clever modular solution helps you to create a great look and a comfortable climate for your conservatory.
For angles of less than 45 degrees the W6 conservatory roof awning can be used alone or in a modular combination with the D2 to cover triangle or trapezoid shapes.
Key Features & Benefits
Wide range of fabric colors and types.
Wide RAL colour range for the aluminium frame and components.
Precision marine grade stainless components for longevity and smooth operation.
Multiple roof awnings can be linked on a common motor.
Covers spaces which are normally difficult to shade.
Common Applications
Conservatory roof spaces.
Commercial Atria or skylights.
Residential glazed skylights.
Landscape structures.
Greenhouses.
Orangeries.
For more information on Warema Conservatory Roof Awnings please download the WAREMA conservatory roof awnings brochure HERE and for a survey and or more advice please us through the form below.
[contact-form-7 id="124″ title="Contact form 1″]