In January of this year I visited the Warema stand at the BAU 2013 trade show in Munich, where many shading and window companies were exhibiting their product ranges. I was drawn by the Warema P40 Pergola Retractable Awning, which had only recently been launched by Warema and was creating quite a stir on the stand.
Later in the year Warema P40 Pergola Retractable Awning went on to win the prestigious 'red dot award: product design 2013' for high design quality, which did not surprise me at all.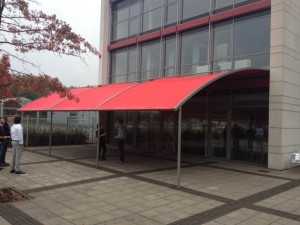 The Warema P40 Pergola Retractable Awning can be fitted with either curved or straight guide rails and a rainwater drain. The P40 Pergola awning combines comfort and functionality through ease of operation and its high level of weather resistance. With a wide selection of Warema fabrics and colours to chose from, along with colour-coded aluminium rail and cassette housing parts, all combine to transform the P40 pergola awning space into your own personal haven.
Thanks to the new Warema secudrive® – the innovative spring steel strip – the fabric can now be guided along curved guide rails. An optional, traveling reinforcement profile offers perfect security combined with an appealing, uniform appearance.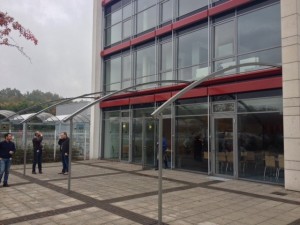 The Warema P40 Pergola Retractable Awning is perfectly suited to providing comfort and shade in summer and winter for restaurant and cafe terraces. The support poles can also be removed for winter storage if necessary. For more information on the Warema P40 Pergola Retractable Awning or P50 or to organise a visit from our Sales Team please CONTACT US.
Features
| | |
| --- | --- |
| Max. width | 650 cm |
| Drive | Motor |
| Max. inclination | 35° |
| Max. total length | 500 cm |
| Lateral guide | secudrive® – For guiding directly in the guide rail |
| Reinforcement profile | Travelling or fixed |
| Fabric selection | Acrylic Standard/ Lumera/ Perfora/ All Weather |
| Frame colours | As per applicable RAL CLASSIC colour chart |