London – 19th April 2013
How often in your career or work do you get the chance to make a big impact upon an exciting project, those moments are really quite rare! Corner Star were recently approached by a Buckinghamshire based Interior Design company, Tutti Decor Ltd to install decorative chain curtains as a design feature into a well known UK Hair and Beauty salon.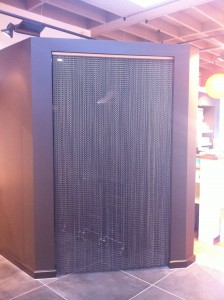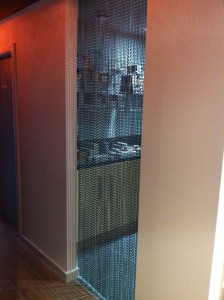 As part of a move to a new home and brand relaunch of the Oxygen Hair and Beauty salon, the overall theme and colour scheme had been agreed and defined by the Aveda salon Architects and Interior Designers.
The salon now incorporates a retail area at the front, which is well lit and in keeping with the brand identity and as you make your way into the main cutting area of the salon there are over 10 work stations all flooded with natural light from the ceiling roof window.
Decorative chain curtains were installed on the cloakroom area in order to hide both the clients coats and the stylists trays and trolleys.
As you pass from the cutting and Styling area into the Wash area, which has low lighting and a calm, relaxed athmosphere we have also installed 6.3m decorative chain curtains. These provide a serene space in which the clients can cut themselves off from the noise of the salon and sit back and enjoy a massage in the extremely comfortable leather reclining seats.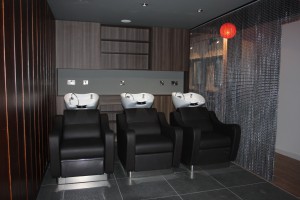 For more information on the range of chain link and colours, please CONTACT us to arrange an appointment, we are very happy to come on site to advise as to what may or may not be possible with decorative chain curtains.