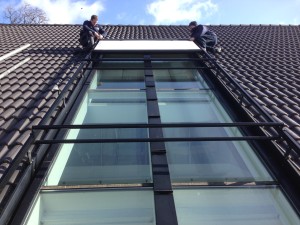 Warema Blinds Repairs UK – Corner Star, a trading partner and full sales and service company, undertake a range of Blinds Repairs for the range of Warema sunight management products from External Blinds, Conservatory Awnings (download leaflet here) and Blinds Controls through to blackout and specialist fabrics for Internal blinds.
Corner Star are registered and listed with the Huf Haus Owners Group and we have undertaken a range of Warema Blinds Repairs across the UK for a number of very satisfied Huf Haus owners.
The Conservatory or Orangery external awning highlighted is the Warema W8 model, which has both a sunlight and an integrated wind sensor built into the awning housing. For this particular Huf Haus owner, Corner Star replaced the side rails, fabric guides and also the awning fabric itself. Our team of professional PAF and CHAS accredited installers were able to complete the work in under 2 days with a minium of fuss or disturbance to the home owners.
The most common blinds repairs we undertake on 8-10 year old Warema W4, W5 and W8 conservatory or Orangery Awnings, are changing out the guide rails which house toothbelts that drive the awning fabric in and out.
The WAREMA conservatory awning W8 was developed especially for large glass surfaces. It functions as a back-pull system and can optionally be equipped with the integrated sensor system for measuring the wind load and sun influence. Contact us HERE for Warema Blinds Repairs