The WAREMA 390 retractable Patio side screen garden awning protects from low sun, prying eyes and light wind, inviting you to spend more of your leisure time outdoors.
The 390 model can also be fitted with diagonal fabric harmoniously fitting under a Warema patio awning or patio roof. Practical fabric protection by means of a cassette and the large selection of colours and fabrics are further benefits of this side screen awning.
The 390 side screen awning Benefits include, lateral protection from light wind, sunshine and increased privacy. 390 Features include the ability to cover a large area with Maximum dimensions of 2.5m in Height and 5m projection, the screen has large handle for ease of use and the cassette housing provides protection for the screen when not in use.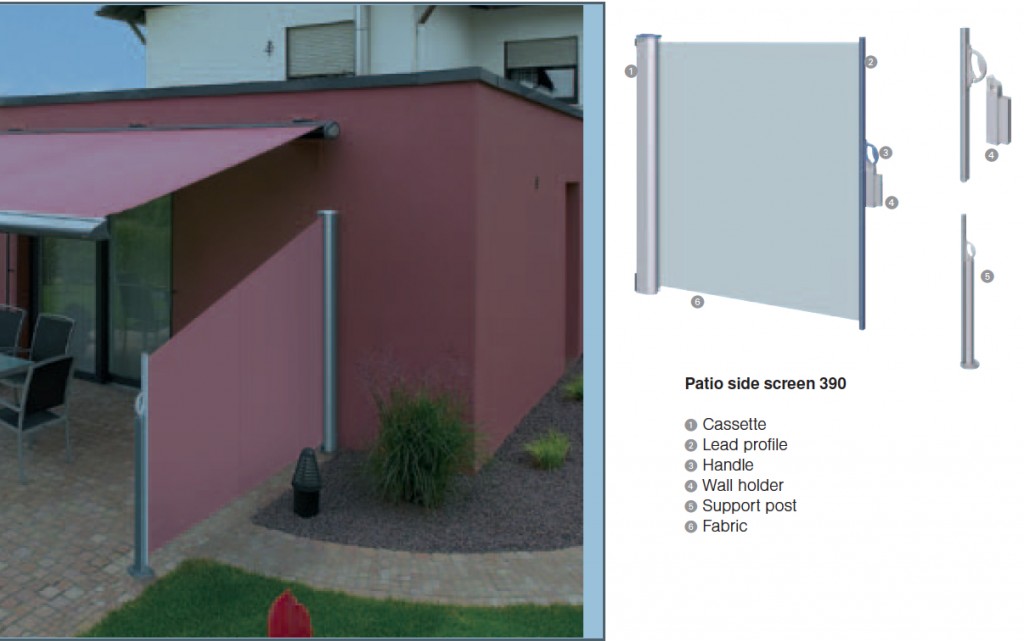 The 390 comes with a range of options including, different colour combinations, additional reinforcement, option to include a PVC viewing panel made of PVC film.
Fields of application and mounting
– Domestic and Commercial (Bars, Hotels, Cafes)
– Patio or balcony
– Cassette mounting using wall brackets
– Holder for the handle for fixing with wall bracket or support post (in base plate or ground screw)
The full range of Warema Patio Awnings and the 390 Retractable Patio Side Screen can be viewed on pages 18 – 19 and 38 of the Waerma Patio Awnings Brochure. If you require any additional information please Contact us.