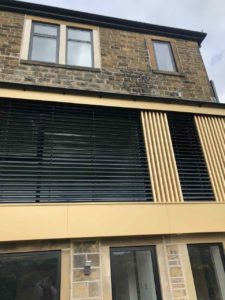 Corner Star recently collaborated with Transform Architects and Whitshaw Builders from Yorkshire on a renovation project for a couple of forward thinking clients.
A large spacious extension was designed by Transform Architects and has been built and finished by Whitshaw Builders and a number of local tradespeople. Corner Star were brought in at the design phase by Transform Architects to incorporate Warema External Venetian Blinds with E93 Dim-out slats.
The Warema External Venetian Blinds have been installed for comfort, privacy and sunlight control. Corner Star have added Warema WMS wireless controls with a WMS weather station, actuators and 6 channel remote controls. The weather station monitors sunlight, rain, wind and the outside temperature and adjusts the blinds accordingly.