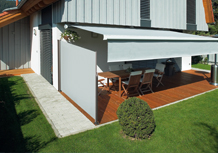 There are times in ones career when one realises that there are certain tasks which should only be carried out by a trained Warema approved installer. Corner star recently had a customer who purchased a Warema 390 Retractable Patio Side Awning, a solar shading solution providing privacy, shade and protection from light lateral winds.
Customers do not always understand the quality of the build and materials used to make this Retractable Patio Side Screen. Equally most installers have not been trained by the original manufacturer to install awnings, pergolas and roof terraces. When it comes to installing either a Warema Awning or Pergola or a Caravita Patio Umbrella it is vital that the installers have been properly trained and educated on the product by the supplier.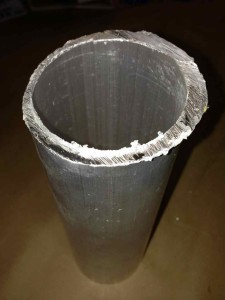 The client selected the fabric colour, pattern and gave us the patio side awning dimensions, however, the client opted to go with their own builder, instead of a Warema approved installer, as he happened to be doing other work at the property at the same time. The Builder was provided with clear drawings and instructions on how to set up the base (80cm high x 80cm deep) to house the end pole which the awning opens and attaches on to.
Once all of the relevant parts had arrived the builder started work, it is clear that the manufacturer's instructions were not followed and the end pole did not fit into the housing, which was only sunk about 2/3 of the way down, the remaining 1/3 was cleaved or severed off (pic picture). When the installer went to site the pole in the housing, it obviously did not perform as it has been designed to function, with the result that the awning lacked tension and flapped about at an angle.

Unfortunately the end customer did not know that the housing had been incorrectly installed (butchered) and was not very happy with the performance of the Side Awning, they called us to ask for a refund, to which we agreed and collected the Side Awning and parts. Back to the Lesson learned, now when a customer makes an enquiry about a Warema 390 Side Awning we insist on these only being installed by a Warema approved installer. What this means is that the supplier has been trained by Warema and will follow the installation instructions and processes, thus guaranteeing that the product will perform according to the manufacturer's specifications.